Chelsea defender Marcos Alonso says that the anti-racism gesture, the knee is losing strength. He will no longer be taking part in the movement
The wingback said that he will be pointing to Premier League 'No Room for Racism' badge on his jersey as others continue to take the knee
All Chelsea players take a knee apart from Marcos Alonso who says he no longer will pic.twitter.com/x3SWorqJ0x

— Rob Harris (@RobHarris) September 25, 2021
Marcos Alonso reasons for not taking the knee
The 30 year-old Spaniard Alonso made his position clear after the 3-0 drubbing of Tottenham on Sunday. He believed that another way is needed to combat racism in football, Alonso said, 
"I am fully against racism and I'm against every type of discrimination," said Alonso.
"I just prefer to put my finger to the badge where it says No To Racism, like they do in some other sports and football in other countries.
"I prefer to do it this way and, of course, to say very clearly that I am against racism and I respect everybody."
Alonso also added to the point when asked whether or not his decision to stop taking the knee had anything to do with politics,
Alonso said;
"I don't know, I just prefer to do it this way. It's my way to do it, I think it's another way.
"And maybe I think it's losing a bit of strength the other way, so I just prefer to do it this way and to show I am fully supportive of fighting against racism.".
 Alonso's teammates like N'Golo Kante, Antonio Rudiger and Romelu Lukaku have all faced abuse in recent years. Reece James had to delete his Instagram account earlier this year due to online trolls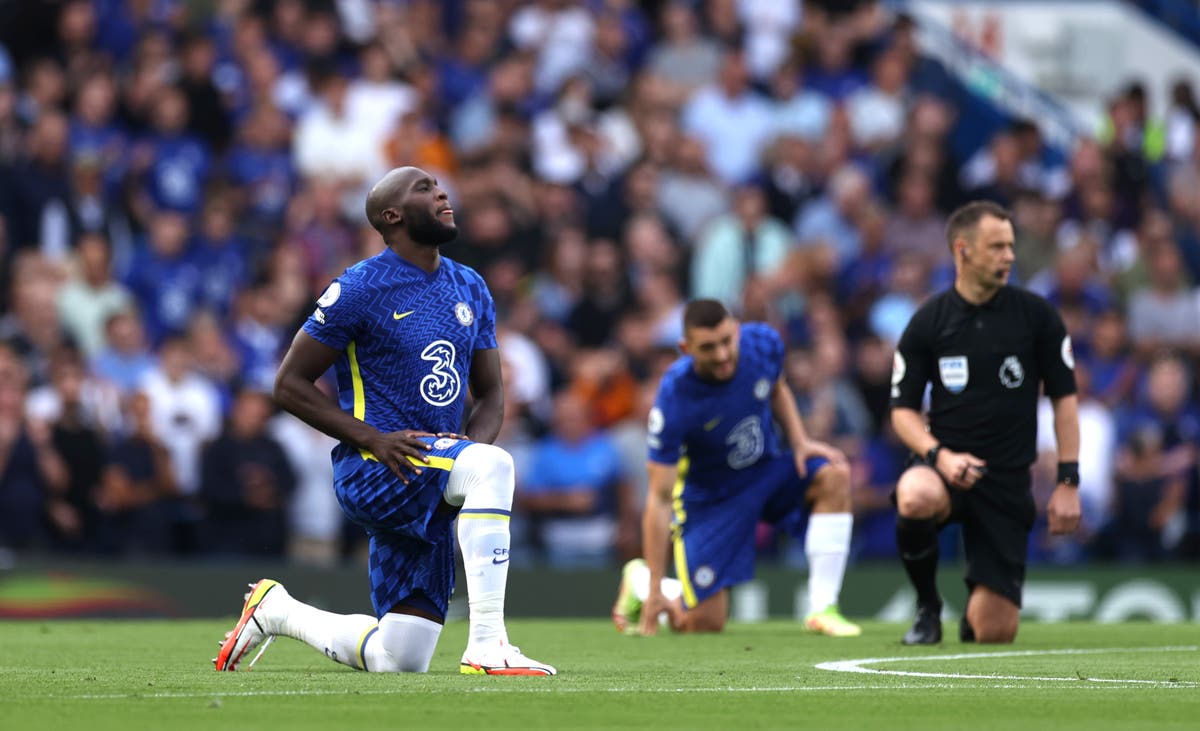 Other footballers that have decided not to take the knee like
Marcos Alonso
Zaha
Marcos Alonso isn't the only footballer that has decided to stop taking the knee.  Wilfried Zaha the Crystal Palace forward was the first Premier League player to stop performing the gesture Earlier this year after he said the gesture is "degrading".
Zaha was racially abused online by a 12 year old after the child messaged Zaha on instagram. The boy was arrested after Zaha revealed the messages before a defeat at Aston Villa in July 2020
"People need to understand that whatever your age, your behaviour and your words come with consequences and you cannot hide behind social media," he said.
"It is important that social media companies do as they did and seek out these individuals and remove them."
Ivan Toney
Brentford forward Ivan Toney said that players are being "used as puppets" in taking a knee. He said that  Brentford will no longer be making the anti-racism gesture before games.
Toney remarked that the "people at the top" rested on the subject and nothing has changed as a result.
We have had a long discussion about that; why we are not taking a knee," he told Sky Sports. "Everyone has had their say, and everyone agrees [that] we have been taking the knee for however long now and still nothing has changed.
"We are kind of being used as puppets, in my eyes; take the knee and the people at the top can rest for a while now, which is pretty silly and pretty pointless. Nothing is changing.
Toney reported his abuse to the police.
Marcos Alonso and Chelsea's impressive start to the season continues.
Chelsea and Marcos Alonso were very impressive in the 3-0 win over Spurs.
Goals from Kante, Rudiger and Thiago Silva gave the European champions's their 4th win of the season. It sent them joint top of the league with Liverpool.
Chelsea play Manchester City this Saturday at 12.30 at Stamford Bridge in a mouth watering clash.
Chelsea beat Pep Guardiola and Manchester City three times last year toward the backend of the season, the FA Cup, the league and the Champions League saw Thomas Tuchel cap off an impressive debut season in English football .