Fans of Manchester United broke into Old Trafford today to protest against the Glazer family that run the club. The protesters entered the pitch before the Liverpool and Manchester United game at 4.30.
The game that was meant to be shown live on Sky Sports. It was called off after the game was delayed when the both clubs released a statement
The Premier League issued a statement regarding the postponement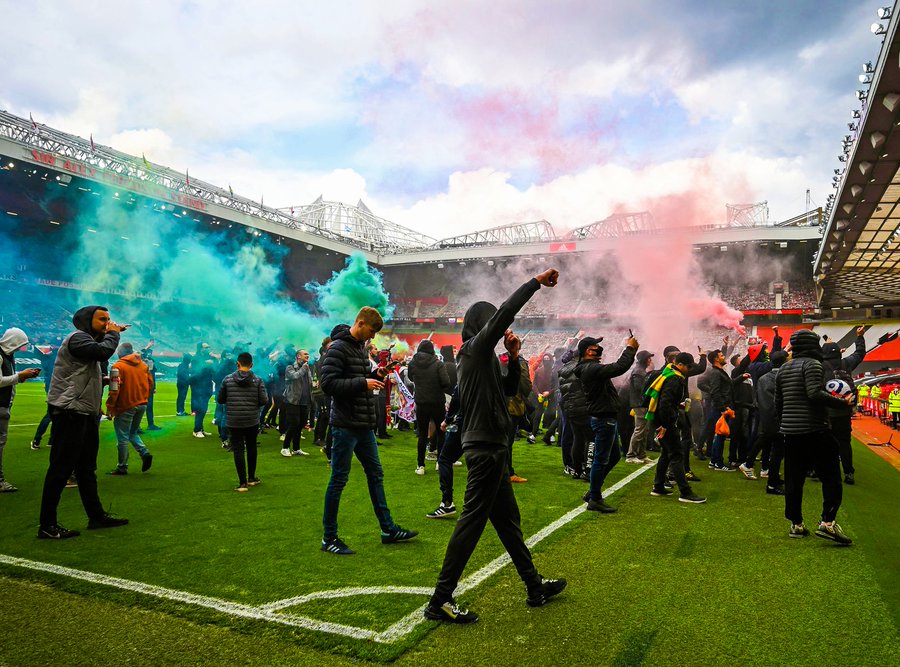 The Premier League said the decision to postpone the game was to ensure "the security and safety of everyone at Old Trafford.

""We understand and respect the strength of feeling but condemn all acts of violence, criminal damage and trespass, especially given the associated COVID-19 breaches," said the Premier League in its statement.

"Fans have many channels by which to make their views known, but the actions of a minority seen today have no justification.
There was also angry protesters gathered outside the Lowry Hotel in Manchester- where the United players were staying.
The protests come two weeks after the collapse of the infamous European SuperLeague idea. This was seen as the tipping point for many fans years after the controversial takeover by the Glazers in 2005.
When the Glazers took over in 2005 the takeover was financed between the club and the family. A fee of £265 million and £275 million was secured against Manchester United's assets. This put the club into debt for the first time since James Gibson saved them in 1931.
What the former Manchester United players think
Sky Sports pundits Roy Keane and Gary Neville both had strong views on the protest today.
It's a huge statement from United fans. The united fans we have to applaud them. They've had enough simple as that which is why they reacted the way they've done, said Keane
Neville also added
"They've stood up for what they think is right. They've had enough, we can make this story about the disturbances, but the story is today that Manchester United fans have spoken.
The Premier League have not announced a date for the fixture to be played yet