Conor Benn beats Vargas with masterclass in 80 seconds
Conor Benn has beat Samuel Vargas in 80 seconds. The son of former WBO middleweight and super-middleweight world champion Nigel Benn made light work of Vargas. The contest was anticipated to be closer, but this wasn't the case as Benn dominated Vargas inside the first round. 
Two right-left combinations rocked Colombia's Vargas, a barrage of punches followed and a hard uppercut on the ropes saw the bout stopped.
The British welterweight was adamant it was time to start recognising the famous Benn name in boxing circles again.
"Start putting respect on my name," said Benn. "I'm putting the Benn name where it belongs – back at the top."

"No-one had banged him out in a round. Easy, easy. Give me a proper test, give me Amir Khan. He's too busy messing about with reality shows.

"I can live with this hype. I'm ready for the top dogs, I want them, I want to test myself. I was expecting a hard fight."
The Columbian Vargas  last 39 previous fights had seen him lose six times. Other famous names in division like Errol Spence Jr and Danny Garcia, were in these statics so it's not a bad return. 
Both Americans required several rounds to defeat the Columbian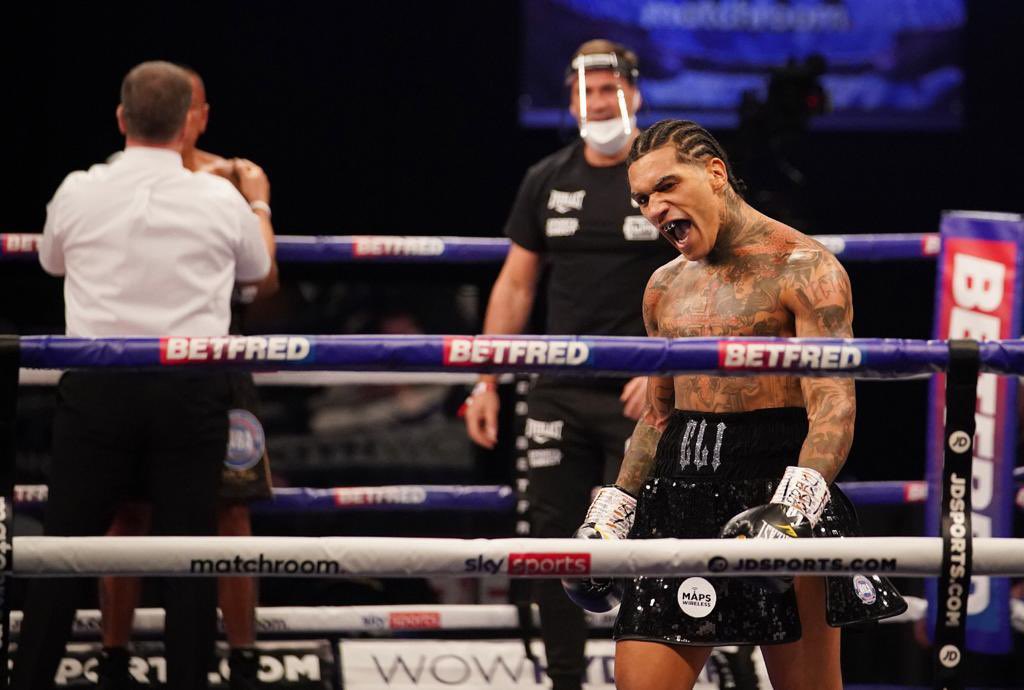 What people are saying about Conor Benn
"My dad says when you see the opening, pounce on him," Benn told BBC Radio 5 Live from London's Copper Box Arena. "That was the last message from him.

"When I hit him I felt 'there is no way you will live up to these punches'. I am not even in my prime and I'm knocking out geezers. Wait until I'm 28, 29, 30 – I'm cleaning up.

"Why should I not be confident in my ability. People don't like that but I work way too hard to not be confident."
Promoter Eddie Hearn said 
"It's not a story of him being a legend's son any more. It's becoming that people will go up to Nigel Benn and say 'you're Conor's dad'.

"He outworks everyone in the gym, it's hard to not get really, really excited. He will be a superstar."
The last few weeks saw Lawrence Okolie beat Krzysztof Glowacki to the cruiserweight title. Dillion Whyte also beat Povetkin in his rematch.
💥💥 A remarkable display of speed and power from Conor Benn! What. A. Statement.pic.twitter.com/U58RRnO4Yj

— Sky Sports Boxing (@SkySportsBoxing) April 10, 2021